Pastoral Care
The Fu Shenfu Migrant Centre would like to meet spiritual needs of immigrants. Two SVD priests, originally from Vietnam - Fr. Joachim Võ Thành Khánh and Fr. Józef Nguyễn Huy Thêm - take care of the pastoral ministry among the Vietnamese Catholics living in Poland. Fr. Joachim Võ Thành Khánh, with the decision of Cardinal Kazimierz Nycz, has been appointed for the parish priest of the Vietnamese in Warsaw.
As part of that Vietnamese Catholic mission there are formation meetings for adults and children, catechesis preparing before receiving Sacraments, sick visits in hospitals and the sacramental ministry – especially confession and Eucharist.
Every week, the Holy Mass is celebrated in Vietnamese in two locations:
- Wolka Kosowska, Holy Spirit Chapel, 50 Swiatkiewicz Road – Saturday at 5 PM
- Warsaw, Chapel at "Marywilska" Shopping Centre – Monday at 5 PM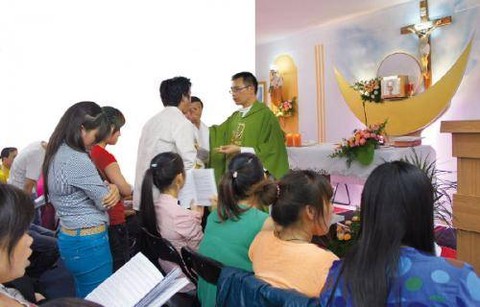 During the year, on the occasion of special feast days, a solemn Eucharist is celebrated in Our Lady Ostrobramska Sanctuary in Witolin, Warsaw (72 Ostrobramska Street) at 3 PM.
In the city of Lodz, where many of the Vietnamese live and work, the Mass is celebrated every second Sunday at 3 PM.
The Migrant Centre also helps and supports the Spanish language Catholic Mission in Warsaw, located at the Holy Trinity Church in Solec, Warsaw. Every Sunday, at midday, the Mass in Spanish gathers believers who speak the language. As a part of that ministry, there are catechesis preparing for the Sacraments.
In the Migrant Centre itself, there is always an opportunity for sharing and spiritual advice (in English, German, Spanish, Vietnamese). There are also spiritual books and magazines available, in many languages.
Once a year, in late January and early February, when many Asian countries celebrate the Chinese New Year, people who support and help the Church in China and the Chinese themselves meet at the Centre for a Polish-Chinese Mass and a joyful celebration.


Holy Mass in languages (Warsaw)